Caesar's Palace Casino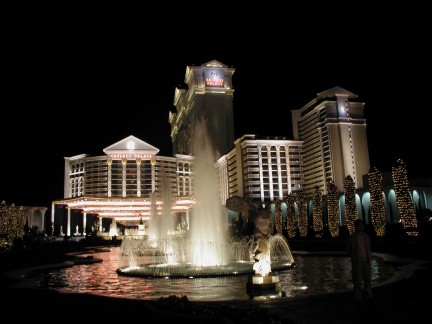 Caesar's Palace in Las Vegas
rpsoft 2000 casino review:
When thinking about Caesar's Palace in Las Vegas, the word "class" certainly comes to mind. A most beautiful casino. And the rooms are exceptional. I am sure that there are some very exotic hotel rooms in Las Vegas, but for our tastes, Caesar's Palace always had the nicest rooms to offer. Caesar's also has several towers, and we have stayed in three different ones. They are all good. Caesar's also takes good care of it's players. Ensure that you get a player's card when staying or playing there.
Blackjack has always been good at Caesar's. One could complain that there are not many low entrance tables. The least expensive table I saw at Caesar's the last trip was $15. Of course, that is not awful in the light of other places. I do remember one night in a California Indian Reservation Casino that there were no tables open less than $25. But if the play is good and fair, and the rules are fine, then one could argue that playing in such a class place is better than many of the places where blackjack tables have lower minimum bets.
Class. And the above picture does look that way, does it not? Very nice place. Very elegant. And timeless. Caesar's is not the newest casino in Vegas, but constant changes and newness with it keeps it's appeal very fresh indeed. It will be most interesting to some of us in California to see what Caesar's does in San Diego North County, with the new casino they are putting in in partnership with the Pauma Indians.
---
Book: The Complete Blackjack Survival Kit (click for info)
eBook Available from Google Play, Amazon Kindle, Barnes and Noble Nook

Does this book tell you how to win? No. It does tell you how you might get the odds in your favor, and gives some strategy tables for some of the more common blackjack games played in casinos. It also tries to explain using math and simulations why getting the odds in your favor may indeed improve your play, but why no one we know of can guarantee winning all of the time.
<!end of sitemap2>