Fitzgerald's Casino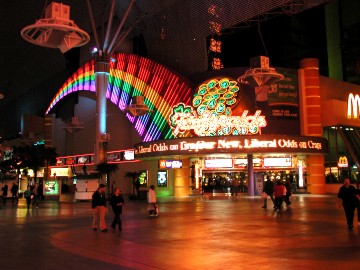 Fitzgerald's Casino in Downtown Las Vegas
rpsoft 2000 casino review:
Fitzgerald's
For many of us, the trip to Las Vegas is always filled with the fun and glamour of the hotels on Las Vegas Strip . . the super Casino Hotels. But often on the same trip there is a desire to get back to the roots of where Las Vegas is simply fun and is still a bargain - with inexpensive table play and the search for slightly better odds. With that, a trip to the downtown area of Las Vegas is an obvious and great choice.
But for some casinos in Las Vegas downtown, the glamour of Las Vegas has already gotten to them. One Casino in downtown Las Vegas, well known, said that they would not take our player card unless we played at their $25 table. Well, interesting. People were using players cards at their nickel slot machines. Even the strip in Las Vegas was more accommodating. Of course prices always change, but during that same trip the Flamingo Hotel on Las Vegas strip was taking players cards even for $5 blackjack. So then, why are some casinos in downtown Vegas becoming even more snooty that the hotels on the strip?
But at least one casino in downtown Las Vegas still is offering a taste of the bargains and fine play that we have become to expect from the Las Vegas downtown area. It is Fitzgerald's casino. And yes, it is still on the main downtown street and the fabulous Las Vegas downtown light show from the overhead street covering.
Fitzgerald's still has low entry price blackjack, and in fact even played some games with double deck while we were there on our last trip. The casino is just a fun place to play, and is usually a must on any of our trips to Las Vegas. It is definitely worth a try.
---
Book: The Complete Blackjack Survival Kit (click for info)
eBook Available from Google Play, Amazon Kindle, Barnes and Noble Nook

Does this book tell you how to win? No. It does tell you how you might get the odds in your favor, and gives some strategy tables for some of the more common blackjack games played in casinos. It also tries to explain using math and simulations why getting the odds in your favor may indeed improve your play, but why no one we know of can guarantee winning all of the time.
<!end of sitemap2>